Discuss creation of the 2d & 3d Art that brings game worlds to life.
not as impressive.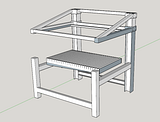 ▲<Please ignore the above text since it lacks anything to do with English>▲
Nice modelling, dudes. I tried sketchup several times & could never get good at it... I always got frustrated and quit lol. and somehow I've made simple models in XSI, blender, & zbrush.
it is a cap program, pain in the arse for 3d printing
▲<Please ignore the above text since it lacks anything to do with English>▲
---
Return to Modelling / Animating / Texturing
Who is online
Users browsing this forum: No registered users and 1 guest